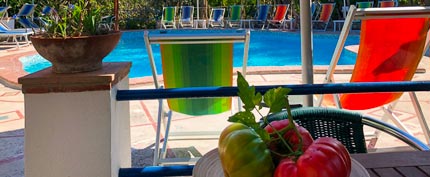 Swimming pool
Right at the center of the garden, Villa Eva's swimming pool, with sun loungers, beach umbrellas and snack bar, is the perfect spot in which to while away the hottest hours of the day, relaxing after a morning's sightseeing or simply soaking up the Mediterranean sun.
Between a swim in the pool and a snack at the bar... don't be surprised if you decide to stay here all day long!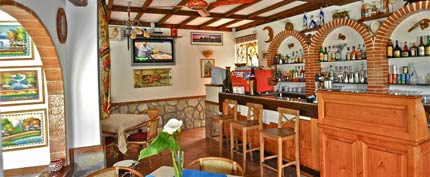 Snack bar
Ideal for a quick bite or a light lunch, the poolside snack bar offers an excellent selection of sandwiches, salads and local specialties. Food is served until 5 in the afternoon. The bar is open until late in the evening. Wi-Fi is available free of charge.
What better way to end the day than with a leisurely drink beneath the star specked sky over Capri?

Excursions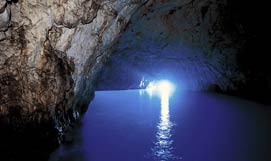 Villa Eva is just minutes away from some of the most beautiful places on the island of Capri:
Damecuta archeaological park
Grotta Azzurra
Punta Carena lighthouse
Historic center of Anacapri
Villa San Michele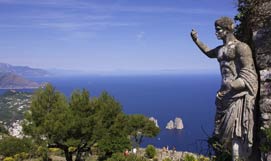 If you like trekking, you'll love these panoramic footpaths (you can start walking from Villa Eva):
Sentiero dei Fortini coastal walk
La Migliera and Philosophical Park
Monte Solaro and the valley of Cetrella
The Phoenician steps
The nearest beaches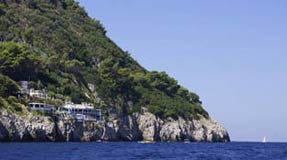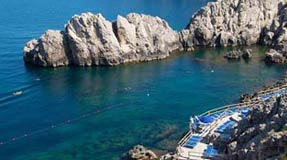 You can quickly reach the sea and a number of the island's best beach clubs from Villa Eva. Don't expect to find sand: Capri's beaches are made from pebbles or rocks. The water is always incredibly clean and the beach facilities are excellent.
Area around the Grotta Azzurra (20 minutes on foot or 5 minutes by bus)
Lido Nettuno (private beach club with restaurant)
Gradola (private beach club and area with bar open to general public)
Area around the Punta Carena lighthouse (30 minutes on foot or 10 minutes by bus)
Lido del Faro (private beach club with pool and restaurant)
Faro (area open to general public with snack bar)
• The things our guests loved most •
The center of Anacapri is a 15 minute walk away. The route is uphill but incredibly beautiful and traffic free. The same applies to the walk to the Grotta Azzurra! If you don't want to walk, you can always catch a bus to the center of Anacapri. There's a stop just outside the hotel. Buses pass every 10/20 minutes, until late...

Karen, Stoccarda
Snacks at the bar ranged from fantastic salads to some of the tastiest panini I've ever eaten...

Riccardo, Bologna
The pool was lovely, great for anyone traveling with kids. I would be happy to spend my whole holiday in Anacapri but, if you want to see the rest of the island, Villa Eva provides a great (and peaceful!) base.

Gianluca, Napoli